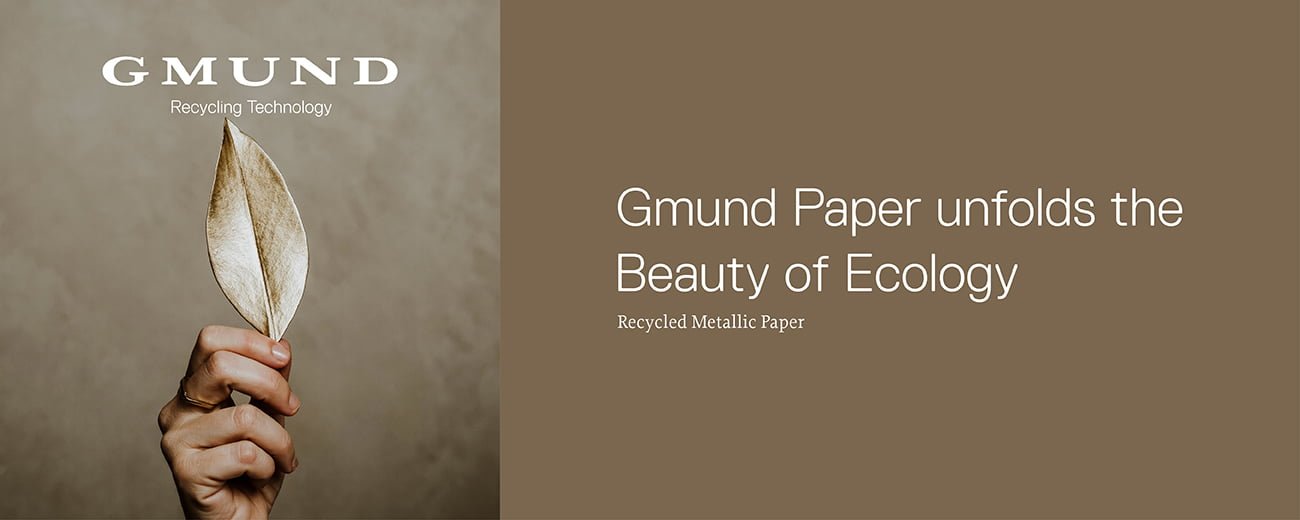 Gmund Paper: Packaging must be green
For Gmund Paper, sustainability and innovation are not passing trends, but a tradition and a genuine commitment. As part of the 'Packaging must be green' initiative, the company is presenting especially sustainable paper products that also make the ideal packaging solutions, both from a functional and ecological perspective. The aim is to push boundaries with alternative or sustainable fibre material to make the paper formulation as natural as possible.
From eye-catching solutions to natural surfaces or pure simplicity, these collections cover all your packaging needs and offer a wide range of plastic-free, ecological solutions.
Gmund Beauty of Ecology
Simply beautiful and yet an ecological paper made from 100% recycled paper. That's how waste papers are reborn as true beauties. And when they are no langer needed, they can be conveniently tossed into the recycling bin – where the cycle begins anew.
Each metallic Gmund Beauty shines to outglitter her sisters. Each surface is unique, from classical to exciting. The colors are timeless, velvety or festive. All share a natural aura. Each has a charm all its own.
These papers are the couture of sustainable paper manufacturing. And they are available starting at 200 kg per variety.
Gmund Hemp
Gmund Paper has succeeded in producing a paper with 100% cannabis pulp. The long fibres, which pose a challenge for the production, make the innovative new material firm in structure, yet wonderfully soft to the touch. The surface is wild and cloudy – as befits a natural paper. The collection includes a paper with recycled paper fibres (Gmund Hemp 50%) and one with pure pulp (Gmund Hemp 10%). Gmund Hemp is produced entirely without dyes and offers a whole raft of ecological advantages: the fibres are more resistant, can be harvested more frequently, can be recycled and don't require any harmful plant protection agents.
For the industrial production of its hemp paper as a packaging alternative, Gmund Paper won the German Sustainability Award, the national award for excellence in sustainability in business, municipalities and research. With eight competitions, over 1,000 applicants and 2,000 guests at the events, the award is the largest of its kind in Europe. It is presented by the German Sustainability Award Foundation in cooperation with the German federal government, municipal umbrella organisations, trade associations, civil society organisations and research institutes.
Gmund Bio Cycle
Paper is made from plants, compostable and therefore creates nutrients for new plants – a perfect ecological cycle. But Gmund Bio Cycle goes one step further: in this collection, up to 50% of the wood is replaced by fast-growing fibres like wheat straw, grass, cotton and cannabis. Following countless machine and material tests, a total of five new papers have been created, all of which appeal directly to the senses. Users of Gmund Bio Cycle Paper can expect a whole new level of design, haptics, storytelling and credibility.
Gmund No Color No Bleach
Gmund No Color No Bleach is made completely without the use of dyes, obtained from pure pulp and pared down to the basics. The No Color variation is plain white and not a single drop of bleach or dye is used to produce it. No Bleach is neither bleached nor dyed. The high-quality, long-fibred pulp used to make it gives it a lively, textured surface and an authentic appearance. The high stability of the sheets resulting from the long fibres offers a wide variety of potential uses for packaging, book covers or brochures.
Gmund Used Gmund Used is made from 100% used paper: 80% of it comes from high-quality FSC®-certified recycled pulp (DIP) bleached during the deinking process, and up to 20% consists of packaging waste generated on site in Gmund, which is collected and sorted by type. A perfect cycle that turns used paper into high-quality Gmund designer paper. This means that Gmund Used is a byword for optimum quality with maximum fibre utilisation. The collection has an impressive range of new, vibrant colours. Its strength and firmness also make it particularly suitable for packaging solutions. And the Gmund Eco certificate logo guarantees that the production is resource-efficient.